Apart from parents for the first time, collective living in English
Apart from parents for the first time, they will be group living with their friends. We support all the staff together until the child gets used to the environment of the school, learning the teacher and friends' face and having a good time. You can enjoy having confidence that you can do at home with teachers and friends little by little, even if you are away from your mother, and enjoy it.
Take English shower and like English
In the school it will be an environment that uses English only. We talked with a lot of teachers, listening to English · talking, singing songs together, enjoying fun in English, like English. And feel it. Also, I am conscious of wearing practical English skills and have given education with four skills of "speak" "listen" "write" "read". As a result, many achievements have been born, such as passing a number of successful English tests and passing famous elementary schools.
You can practice various experiences and experience a small success
In this class, we have taken a lot of hands-on training. Practice children's interest and curiosity by actually experiencing gymnastics, cooking, science experiments, crafts, art, music (bilingual lessons), pleasant excursions, international events, multiculturalism etc. in the garden . We will encourage children with self-confidence by having children do a lot of small success experiences.
Lesson example
10:00
Start
Let's learn to say day, month, date and time with teachers with attendance book Morning routine Washing hands, gargles, toilet, putting on shoes Learning how to say day, month, date and time by checking own attendance book Then, free playing time
10:45
Cleanup
11:00
Singing along with guitar.
11:30
Circle time and special themed events (studying basic English and experiencing special themed events ) Programs by days(These are the main programs. If there is any changes, we will inform you by updating calendar. )
12:15
Lunch
13:00
Brushing teeth, toilet, then playing in the yard or free playing     (Each program has its own lunch times and afternoon activities )
13:30
The first grade, the second grade and the third grade, Writing &Math Textbook time (varies of the day) Furthermore, special themed events every month(seeding, planting, swimming , birthday party, storytelling, dance practice for special events)
14:15
Dismissal
画像を入れて下さい
画像を入れて下さい
画像を入れて下さい
Certain Achievements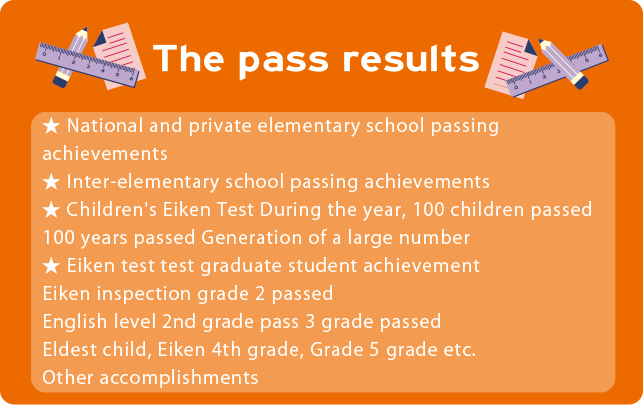 Voices from parents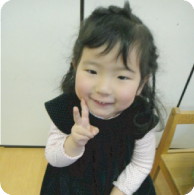 S-chan
Second grade elementary school student
My daughter started going to Doremi Garden Pre-school when she turned 2. She even could speak a few Japanese so it was like she learned Japanese and English at the same time. As I remember, she knew some English words such as colors and animals before she knew those of Japanese.
The best thing that I think of about learning English in Doremi Garden Pre-school is an every day's singing time. She took in English words and phrases naturally with rhythm and music. It fit her since she particularly likes singing and dancing.
When she went up to middle grade, she joined Reading Club since she didn't have much understating what makes "words" although she knew alphabets enough.
After a while, she gradually understood how she construct alphabets into words and improved her reading skills.
She is happy that she could read English sentences all by herself since reading has been her favorite.
I used to read for her when there was a word which she knew the meaning but couldn't read, but lately, if I say "Why don't you read it first?" to her in that kind of situation, she tries to read it out loud and then she realizes like "Oh! This means that!"
I think it helps her having self-esteem that she finishes one book every lesson even it's not a long story. She keeps enjoying going to Reading Club after she went on to a public school. I hope she will keep enjoying learning English. Mrs. I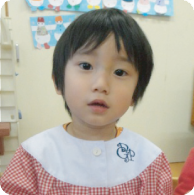 F-chan
Second grade elementary school student
My daughter is in the second grade of elementary school. She has passed EIKEN grade 3.
She has conversation skills enough to play with foreign kids when we go abroad.
She went to Doremi Garden 5 days a week for 3 years, form the first grade (Star Class) to the third grade (Sky Class).
After she graduated, she goes to After School Care in English 3 days a week.
When she was in the middle of the second grade (Rainbow Class) of Doremi Garden, she joined Reading Club. Now she reads short stories with a tablet. The books she reads are of Level H-I.
I and my husband think English learning should be fun so all she does for English study is it.
We even leave that to herself but it seems she likes Quiz and Tips and those makes her keep doing.
I think homework started from Rainbow Class was really great.
She seems to remember many English words before we knew by keeping reading every chance she gets.
Thanks to Doremi Garden, she enjoys English and we think that's the best thing.
She will be keep going to After School Care in English. Mrs. H
Price list
Target age
15 months to 6 years old
The day of the week
Monday - Saturday
time
10:00〜14:15
Lesson fee
● 5 to 6 year old class 5 days a week ・ ・ ・ 67,682 yen
● 4 to 5 year old class 5 days a week ・ ・ ・ 67,682 yen
● Classes from 3 to 4 years old
5 days a week ・ ・ ・ 67,682 yen
4 days a week ・ ・ ・ 57,669 yen
3 days a week ・ ・ ・ 44,650 yen
● You can choose the 2-year-old class 5 times, 4 times, or 3 times a week. Each fee is the same as the other classes above.
● Class from 15 months to 2 years old (Mommy & Me)
2 days a week ・ ・ ・ 34,637 yen
● Admission fee 70,000 yen (only at the time of admission)
● Insurance premium and teaching material fee 45,000 yen (once a year)
● School maintenance fee & utility fee 3,245 yen
● Transfer fee 13,650 yen
● School lunch fee 410 yen per meal
● Extension fee 11,000 yen (for monthly) / 1,133 yen (for each case)